Signs Of
Sudden Oak Death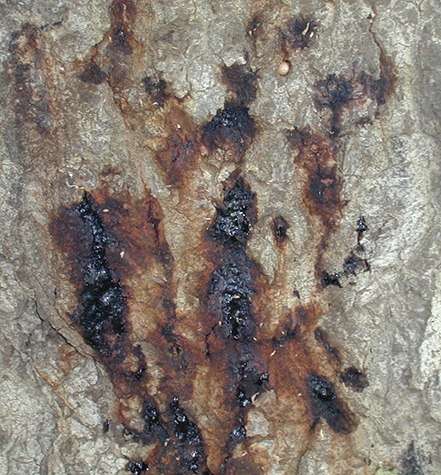 In tanoaks, the disease may be recognized by wilting new shoots, older leaves becoming pale green, and after a period of two to three weeks, foliage turning brown while clinging to the branches. Dark brown sap may stain the lower trunk's bark. Bark may split and exude gum with visible discoloration. After the tree dies back, suckers try to sprout the next year but their tips soon bend and die. Ambrosia beetles will most likely infest a dying tree during midsummer producing piles of fine white dust near tiny holes. Later, bark beetles produce fine, red boring dust. Small black domes, the fruiting bodies of the Hypoxylon fungus, may also be present on the bark. Leaf death may occur more than a year after the initial infection and months after the tree has been girdled by beetles.
In coast live oaks and Californian black oaks, the first symptom is a burgundy-red to tar-black thick sap bleeding from the bark surface. These are often referred to as bleeding cankers.
In addition to oaks, many other forest species may be hosts for the disease; in fact, it was observed in the USA that nearly all woody plants in some Californian forests were susceptible to P. ramorum.[4] including rhododendron, madrone, evergreen huckleberry, California bay laurel, buckeye, toyon, manzanita, coast redwood, Douglas fir, coffeeberry, and Shreve oak. Sudden Oak Death more commonly causes a less severe disease known as ramorum dieback/leaf blight on these hosts. Characteristic symptoms are dark spots on foliage and in some hosts the dieback of the stems and twigs.[5] The disease is capable of killing some hosts, such as rhododendron, but most survive. Disease progression on these species is not well documented. Redwoods exhibit needle discoloration and cankers on small branches with purple lesions on sprouts that may lead to sprout mortality.
Phytophthora ramorum causes two types of symptoms depending on the infected plant. Trunk cankers form on some oaks while most shrubs and non-woody plants show leaf spots which may also have shoot dieback. Trunk cankers are the most damaging, and often lead to death. Once weakened, the diseased oak and tanoak trees are often attacked by bark beetles that can kill the tree or plant. When parts of the tree die, fungi in the trees may be stimulated to grow. Leaf spot and twig symptoms are lethal only when plants are very small. However, plants with minor symptoms may play an important role in spread of the disease as the disease reproduces on many of these species.